Keeping germs and grime away from your bathroom can be a tough job, but when you stay on top of the cleaning it makes it much easier. Expensive products and solutions aren't always the best option to keep your bathroom sparkling and spotless. At SCS Cleaning Services we would recommend a number of natural household products for a deep and quick clean with minimal effort.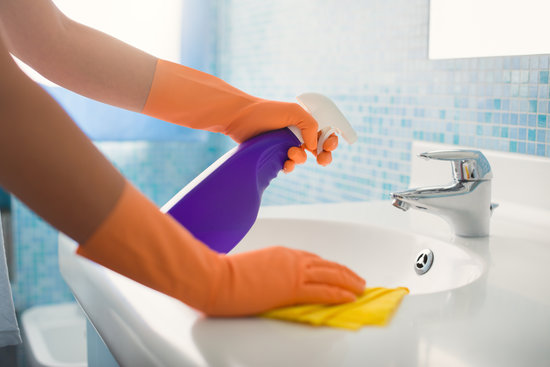 (via Pop Sugar)
Shower head
If you live in a hard water area you are likely to get a build up of limescale on your shower head. Although there are many strong cleaning products that promise to work, an easy way to clean your showerhead is by using a bag and vinegar. Simply fill a small plastic bag with white vinegar and tie around the showerhead. It's guaranteed to work overnight and saves you money.
Bath
Rinsing down bathtubs and basins after use is a good habit to pick up. This will minimise the build up of scum, making it easier to give them a thorough clean. A simple wipe with a diluted vinegar mixture will make basins look sparkly clean again. Enamel baths should be treated differently though to avoid scratching. Using a sponge dipped in bicarbonate of soda will shift the everyday grime and limescale.
Toilet
Sprinkling baking soda around the inside of the toilet and leaving it to sit gathers up the scum. Brush away the baking soda and flush. Tougher stains can be removed using a mixture of borax and vinegar in equal quantities. Apply the mixture to the marked areas and leave for at least two hours, before removing with a coarse toilet brush or wire scrubber.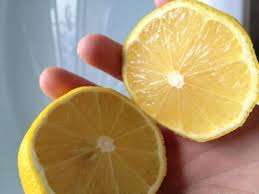 (via Mums Make Lists)
Taps
A great way to bring back the shine in bathroom taps is by using a lemon. Chrome taps in particular can start to look grubby and dull very quickly making it tough to clean them properly. Remove any dirt around the taps using a toothbrush before rubbing the taps with half a lemon. You can use the other half to get rid of limescale deposits on baths, shower screen and tiles. Baby oil adds a further shine.
Mirrors
Mirrors can be cleaned in a similar way to windows but you should be careful to avoid smudges. For a natural and cheap solution, mix together half part water and half vinegar in a spray bottle. Old rags can then be used to wipe the mirrors clean. Paper towels should be avoided as these will leave behind a lot of residue. Microfiber cloths are an even better alternative to prevent smudges.
For commercial or private cleaning services we can help. Here at SCS Cleaning Services we offer cleaning solutions for across the home, garden and workplace in the Edinburgh area. Contact us today to find out more. Our blog has many other helpful articles with further cleaning tips and advice.