Comprehensive Commercial and Residential Gutter Clearance
Gutters can be one of the more neglected aspects of building hygiene. The difficulty of their elevated position and the necessity of employing specialist equipment mean meticulous cleaning can be a challenging task.
Cleaning Your Guttering is Paramount
There is a wealth of issues associated with inadequate gutter-care. Not only do blocked gutters prompt water leakage to your property but, if left for a considerable period of time, can even damage property foundations.
Much of the damage is unseen within the masonry, pointing and seepage. This can, potentially have disastrous effects to the electrics, plaster and decor, not to mention causing damp.
Don't delay cleaning your gutters. The result could be that you'll incur potentially thousands of pounds. Be proactive, not reactive.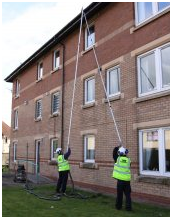 We can easily complete all high access gutter cleaning with ease. Unblocking even the most clogged of gutters is a breeze with our state of the art gutter-vac system. Comprehensive cleaning, with minimal disruption to you is assured.
Equipment Employed
Employing the latest telescopic low to high pressure washing lances we can completely remove dirt and debris from a ground-based position. With a 60ft reach we have the capability to reach those elevated places with ease.
Our Promise
We offer the most cost effective gutter cleaning in Edinburgh. We will match any comparable quotation you've collected. Our professional team of gutter cleaning professionals are highly experienced, holding all relevant accreditations, and perfectly capable of delivering result of a superlative calibre.
Simply put, we offer the foremost gutter cleaning in Edinburgh. To receive a FREE quotation today, or ask us any questions, contact us today on: 01875 820 080.