Top to Bottom Stairwell Cleaning Throughout Edinburgh and Lothians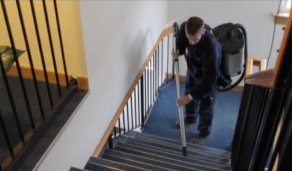 Building stairwells are one of the most neglected commercial cleaning areas. Not only are stairwells difficult to clean, the process is often time consuming. SCS Cleaning provides comprehensive commercial stairway cleaning across Edinburgh and Lothians.
Tailored Stairwell Cleaning
We offer an approach to suit you. We offer contracts on a weekly, bi-weekly or monthly basis. Alternatively, if you only require professional stair cleaning bi-annually or when needed, we can easily accommodate your wishes.
Much More than just Stairwell Cleaning
Our professional team offers so much more than simple stair cleaning. Not only do we leave the stairs in pristine condition but, the whole of the area too. From the surrounding landing and banisters, railings, lifts and all fixtures, we will leave the whole area spic and span.
Our Stairway Cleaning Includes the Following:
Stairwell and landing carpet vacuuming
Hard flooring / tiled area mopping
Lift cleaning and vacuuming
Stair nosing cleaning
Banister and ledge dusting and polishing
Railing, skirting, dado and light fittings dusting
Glass door panel cleaning
Communal door plate, fittings and additional surface polishing
 Deep Clean Stairway Service
Over time stairwells can gather an abundance of dirt and debris. We offer a deep stair cleaning service across Edinburgh, for all commercial buildings. This comprehensive stair cleaning service offers enhanced cleaning for an affordable price.
We offer so much more than just cleaning your stairwells. We'll scrub and reseal your floors, and leave your tiles, doors, and window glassware and sills in immaculate condition.
Additional Services
Complimentary cleaning services are also offered. We will remove rubbish from surrounding refuse bins, grass cuttings, and clean your courtyard. You'll be able to enjoy a professional-looking property – giving those visiting the premises the right impression.
Contact us today to receive a free of charge quotation. If you have any questions, please call: 01875 820080.