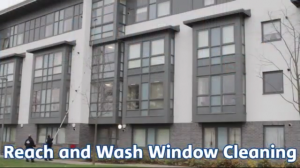 Extending Above the Competition, We Provide Peerless High Access Window Cleaning throughout Edinburgh and surrounding areas.
The exterior of tall commercial properties can be notoriously challenging to clean comprehensively. Not for us. Our reach and wash window cleaning guarantees a gleaming finish every single time.
Here at SCS we have over a decade of experience cleaning residential and commercial windows. Covering Edinburgh, Lothian, Livingston and Fife, we have established a reputation that elevates us above the competition.
We offer a completely transparent service. This is evident in all our communications with customers. No matter the nature of your requirement, we will clean your windows with meticulous professionalism.
Our Reach and Wash System
We guarantee superior window cleaning. How? We employ the use of an innovative reach and wash system. Using a 65 foot pole, we have the capability of reaching elevated windows with ease.
Considered to be safer and more effective than ladders, the reach and wash system uses pure water to absorb and remove all dirt and debris, before being rinsed to leave a streak-free surface.
Why Use the Reach and Wash System?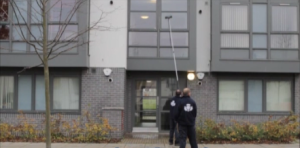 There are a number of distinct advantages of employing the use of a reach and wash system. As innovative domestic and commercial window cleaners in Edinburgh we understand this. The advantages are as follows:
Able to reach previously inaccessible windows with ease
Offers greater efficiency and leaves a streak-free finish
Operators can work from the ground, eliminating dangerous ladders
Reduces general disturbance
Environmentally-friendly
Eliminates the need for ladders, leaving zero potential for building damage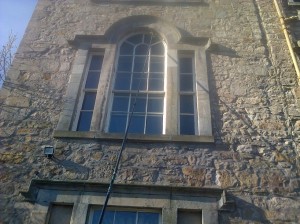 As a flexible window cleaning company based in Edinburgh we offer you the choice of a fortnightly or monthly cleaning. We can also offer you a tailored approach to window cleaning. You need just let us know what's best for you.
To find out more information, or to receive a FREE quotation, feel free to call us today on: 01875 820080.