New Heights of Thorough Drain Cleaning
Here at SCS Cleaning we're proud to have amassed an enviable reputation as a residential and commercial drain cleaning company of considerable prowess.
With fourteen years' experience delivering gutter cleaning that exceeds even the loftiest of expectations we can effectively manage all drainage-related issues with ease and professionalism.
Whether you've an expansive commercial property or a smaller home, we deliver on our promises. Offering so much more than standard gutter cleaning, we can manage the following issues with ease: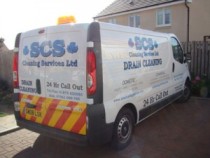 Blocked drains
Blocked internal facilities, including toilets, baths, and showers
Drain repairs
There are NO hidden costs or fixed price. We also DON'T charge a call-out fee. This highlights the customer-focused service that we're proud to consistently deliver to our clients.
Our experienced professionals have the right equipment to effectively manage all aspects of drain cleaning across Edinburgh. We employ high pressure water jets to remove dirt, debris, or even fallen tree branches.
Domestic Drain Cleaning
Blocked drains can greatly affect your home and the surrounding environment. It's believed that 75% of sewer flooding is caused by drain blockages. This is as good a reason as any to routinely make sure that your drains are clear of clogged debris.
We provide a meticulous service to our domestic customers. Prompt and professional, we clear your drains with zero intrusion on your home.
Commercial Drain Cleaning
Regular drain cleaning is also paramount within a commercial environment. Should you neglect to manage the debris collected, your business may suffer serious leaks, overflows, or even electrical damage. This must be avoided to at all costs. If not all businesses will suffer financially.
As with our domestic drain cleaning, we provide a meticulous service to our commercial customers. All drain cleaning will be conducted in a professional manner, with zero disruption to your business.
As the foremost drainage cleaning company in Edinburgh we manage your requirements effectively. If you'd like to ask us any questions, or to receive a FOC quotation, contact us today on: 01875 820 080.